Finance your
business project

Raise funds on WineFunding Your contributors promote your wine Sell your wine to all WineFunders
MEET WINEFUNDED PRODUCERS
They have financed their projects with WineFunding
Producers share their experience,
as well as some passionate WineFunders.
__
WineFunded interviewed
(by order of appearance) :
Richard Rottiers, Moulin-à-Vent

Julie et Graeme Bott, Condrieu

Arnaud Boué, Bourgogne

Coralie Malazdra, Puisseguin Saint-Émilion

Olivier Cazenave, Saint-Émilion Pomerol

Alix et Gérald Standley, Bordeaux

Yann Couturier, Blaye - Côtes de Bordeaux

Témoignage d'Albéric Philipon
WineFundé en Provence.
__
Albéric Philipon raconte :
" C'était une très bonne façon
d'associer les
WineFunders
à notre aventure"
" Finalement, on a
rétrocédé beaucoup plus
de contreparties en vins,
qu'en numéraire"
Témoignage d'Elena Fucci
WineFundé en Italie.
__
Elena Fucci raconte : :
"Mon expérience avec le projet
WineFunding a été fantastique."
"Cela m'a permis d'apprendre
à connaitre un groupe
de personnes très dynamiques,
provenant du monde entier,
qui m'ont aidé et soutenu"
Témoignage de Arnaud Boué
WineFundé sur deux projets.
__
Arnaud Boué raconte :
" La société est née sur
un financement participatif
qui a été géré par WineFunding
en création de capital"
" On apprécie de travailler sur
d'autres points comme la distribution,
l'apport de clients étrangers...
C'est avec WineFunding qu'on a fait
nos premières ventes à l'étranger "
Témoignage de Richard Rottiers
WineFundé en Beaujolais.
__
Richard Rottiers raconte :
" J'ai voulu faire appel
au crowdfunding parce que
c'est un projet participatif
donc on inclut beaucoup de gens
qui sont intéressés par le projet"
" La présentation du projet sur WineFunding
est très professionnelle [...]
et le fait que je veuille partir en
agriculture biologique est
bien mis en valeur "
Témoignage de Coralie Onde
WineFundée en Côtes du Rhône.
__
Coralie Onde raconte :
" J'ai eu une très bonne
expérience avec WineFunding
parce que ça m'a permis d'oxygéner
mon domaine et j'ai surtout pu finir
ma plantation de Blancs"
" Je pourrai dès cette année,
septembre 2020, récolter mes premiers
Blancs, en espérant que la cuvée
soit digne des WineFunders"
Retour en haut de la page
Sign-up to the newsletter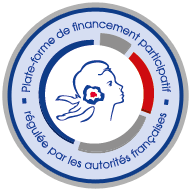 WineFunding SAS · 115 rue David Johnston, 33 000 Bordeaux, France · RCS Bordeaux 802 844 449
Conseiller en Investissements Participatifs et Intermédiaire en Financement Participatif registered at ORIAS under reference 15003095
Member of the professional organization Financement Participatif France
Partner of MangoPay SA, approved as an electronic money institution in Luxembourg by the Financial Sector Regulator (CSSF) under reference 3812
Wine contains alcohol. Please enjoy wine responsibly.
© WineFunding